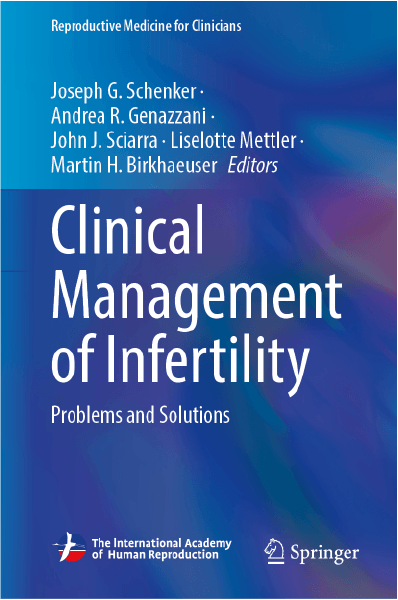 Clinical Management of Infertility
Editors: Schenker, J.G., Sciarra, J.J., Mettler, L., Genazzani, A.R., Birkhaeuser, M.H. (Eds.)
This new volume in the Reproductive Medicine for Clinicians series focuses on the practical clinical impact of problems linked to infertility, discussing topics such as luteal support in ART cycles, ovulation induction using pulsatile administration of GnRH, how to deal with the metabolic changes in PCOS, treatment to restore fertility in endometriosis and how to improve implantation, which are common aspects of daily clinical practice.
It also addresses significant novel areas like the biological clock in human reproduction, reproduction at advanced parental age and medical and social egg freezing, offering valuable insights for patients and their doctors. Further, the book covers various areas of growing importance, such as how to access the uterine cavity; the future of imaging in reproduction; non-invasive prenatal testing; ART and male infertility; as well as breast cancer and fertility preservation.
Last but not least, it examines the medical, ethical and legal aspects of a number of challenges for current and future reproductive medicine, including uterine transplantation and human genetic modification.
Bringing together updates on some of the most important problems in reproductive medicine and also covering ethical and legal bases, this book offers an overview of potential treatments for infertility. As such, it is a valuable resource for gynecologists, obstetricians, endocrinologists and all specialists dealing with reproductive health.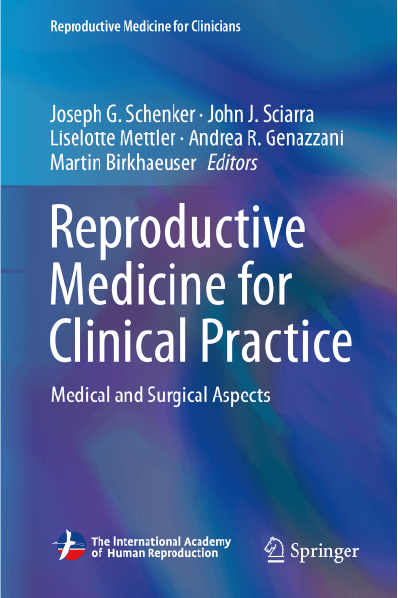 Reproductive Medicine for Clinical Practice Medical and Surgical Aspects
Editors: Schenker, J.G., Sciarra, J.J., Mettler, L., Genazzani, A.R., Birkhaeuser, M.H. (Eds.)
This first volume of the series of the International Academy of Human Reproduction focuses on new aspects of reproductive medicine, from the professional responsibility model of ethics to the areas of high clinical involvement in human reproduction, such as endometriosis, polycystic ovary, family planning and post-coital contraception. 
The book discusses fertility and assisted reproductive techniques in the context of genetics and epigenetics as well as psychosomatic and longevity aspects. In addition, it presents new technologies and therapeutic strategies to improve IVF results and prevent ovarian hyperstimulation syndrome, as well the new challenges and the future of imaging in reproduction. 
Menopause and the effects of estrogens on atero-prevention, mood, and more generally the reproductive hormones impact on dementia and healthy aging are also covered. Further, it includes a section devoted to innovative aspects of gynecological surgery, discussing the treatments of vaginal aplasia, reproductive microsurgery and technological breakthroughs in pelvic organ prolapse surgery. Last, but not least, it examines the syndromic aspects of preterm birth. This volume is a useful and comprehensive tool for gynecologists, obstetricians, endocrinologists and all specialists who deal with women's reproductive health.